《荷马诸问题》(1996)
作者 : 格雷戈里·纳吉 (Gregory Nagy) 译者 : 巴莫曲布嫫 (BAMO Qubumo) | 点击数 : 7741
·原著出版信息·
 Homeric Questions
  By Gregory Nagy
  Book Description:
  Publication Date: July 1, 1996; A Choice Outstanding Academic Book.
  The "Homeric Question" has vexed Classicists for generations. Was the author of the Iliad and the Odyssey a single individual who created the poems at a particular moment in history? Or does the name "Homer" hide the shaping influence of the epic tradition during a long period of oral composition and transmission?
  In this innovative investigation, Gregory Nagy applies the insights of comparative linguistics and anthropology to offer a new historical model for understanding how, when, where, and why the Iliad and the Odyssey were ultimately preserved as written texts that could be handed down over two millennia. His model draws on the comparative evidence provided by living oral epic traditions, in which each performance of a song often involves a recomposition of the narrative.
  This evidence suggests that the written texts emerged from an evolutionary process in which composition, performance, and diffusion interacted to create the epics we know as the Iliad and the Odyssey. Sure to challenge orthodox views and provoke lively debate, Nagy's book will be essential reading for all students of oral traditions.

  Editorial Reviews:
  ". . . the latest in [Nagy's] series of brilliant and provocative works that open up new vistas in Homeric studies. . . . Informed and creative, wide-ranging and profound, this book stands at the cutting edge of Homeric scholarship and reminds readers why its author is one of the foremost classical scholars in the world today."
  -Choice
  "Nagy performs a valuable service, in the current climate of Homeric studies, simply by reminding us once again, and forcefully, that the relationship between our written texts of Greek epic and their oral origins is a problematic one."
  -Southern Humanities Review
  About the Author:
  Gregory Nagy is Francis Jones Professor of Classical Greek Literature and Professor of Comparative Literature at Harvard University. He is the author of the recent books Greek Mythology and Poetics and Poetry as Performance: Homer and Beyond.

  Table of Contents
  ·Preface
  ·Introduction
  ·Chapter 1: Homer and Questions of Oral Poetry
  ·Chapter 2: An Evolutionary Model for the Making of Homeric Poetry
  ·Chapter 3: Homer and the Evolution of a Homeric Text
  ·Chapter 4: Myth as Exemplum in Homer
  ·Epilogue
  ·Bibliography
  ·Index
  ·Book Excerpts: Introduction
  Product Details
Paperback: 192 pages
Publisher: University of Texas Press (July 1, 1996)
Language: English
ISBN-10: 0292755627
ISBN-13: 978-0292755628
Product Dimensions: 6 x 0.4 x 9 inches
  Purchase this book at here
Continuing : 1 | 2 |
文章来源 : 中国民族文学网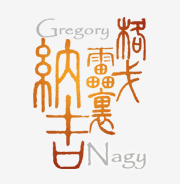 ·

国际史诗研究者档案

·


Archive for International Epic Researchers